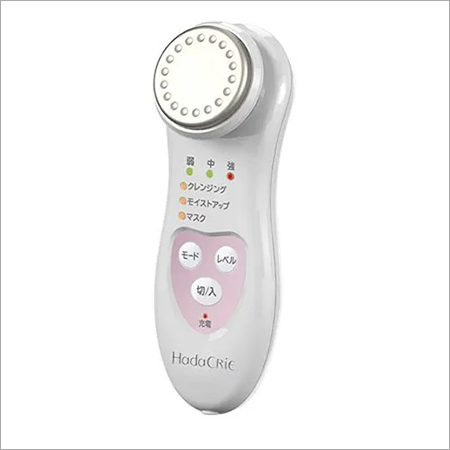 Price And Quantity
500.00 - 513.00 USD ($)

60 Piece
Product Specifications
Other

Beauty Products

Moisturizing
Product Description
HADA CRIE "CM-N820" from HITACHI:
With the power of ion, deeply absorbing dirt deep from every pore and providing much-needed moisture. Japan's best selling Face Massager!
HADA CRIE "CM-N820" from HITACHI, Ion Facial Massager
Beauty brought to you by "Made-in-Japan"
JAN Code: 4902530004328
Made in Japan
The new model HADA CRIE CM-N820 is a facial cleaning and massage system that will change and improve the way you take care of your face. This hand held cleaning and massage head performs better than ordinary manual cleaning methods. With ion power, it cleans deeply into pores to remove more dirt and penetrate moisturizing ingredient to horny layer and helps to keep moisture. Hada Crie N810 has 4 different modes which are Cleanse, Micro-pat, Moisturize and Refresh (details as below). CM-N810 comes with a built-in rechargeable battery, chargeable by AC 100 ~ 240V, 50-60Hz which is included with the product. With each charging time which takes about 5 hours, the user can use the product 10 consecutive times. The CM-N810 includes two cotton pad ring and a stand. -----
CLEASNING MODE (5min): This mode removes fine dirt remaining in pores which cannot be removed just by washing and makes skin suitable for "Micro-pat" Saturate cotton attached to the body with skin lotion after washing your face. Please use your regular skin lotion or rubbing-off skin lotion with an exfoliating effect. (Do not use milky lotion or gel-like material)
MICRO-PAT & MOISTURIZE MODE (5min): This is the mode to effectively stimulate and loosen up skin so that you will have skin which easily allows moisturizing ingredients to penetrate the skin. It also cares for skin by allowing moisturizing ingredients of skin lotion to penetrate the skin.
REFRESH MODE (5min): This mode allows you to bring your sin back under control with fine vibrations and mild switching of electrodes.
PRODUCT HIGHLIGHTS :
Including items: AC adapter, Recharging stand, Two Cotton Rings
Made in Japan
Effectively cleanses pores, moisturizes and reduces the appearance of wrinkles
Features four operating modes: Cleanse, Micro-Pat, Moisturize and Refresh
Titanium head prevents allergic reactions
Can be used with regular toner
Rechargeable and can be used while travelling
Features 2 power level selections
Includes internal memory function
Features auto-stop function
Makes a great Mother's Day present
Power Supply: AC 100-240 V, 50-60 Hz
Charging Time: 5 hours
Duration per mode: 5 minutes
Dimensions: 48 x 159x 55mmNet Weight: approximately 150g
Other Products in 'Skin Care Products' category
Get in touch with us