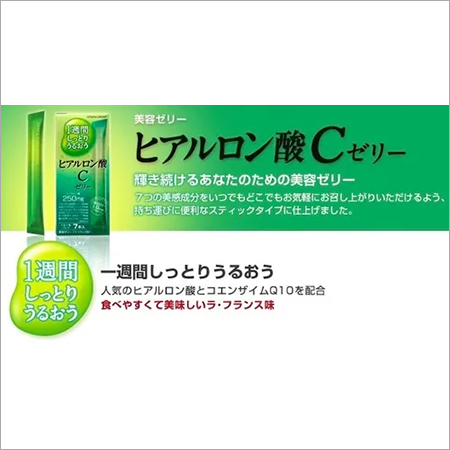 Price And Quantity
90 Piece

85.34 - 100.00 USD ($)
Product Description
Featuring 7 kinds of "beauty ingredient" in one sachet, which will be smoothly engrossed into the body. The Hyaluronic Acid C Jelly we offer is the most innovative beauty creation of Japan. Each pack of this Skin C collagen jelly comprises low molecular weight collagen amide. Nourishing the beauty with convenient separately packed portions the product is used for softer and more hydrated skin. The Vitamin C and amino acids present in the gel advance a healthier and younger skin that emits from within. Made with delicious Passion fruits, the Hyaluronic Acid C Jelly is flavored and complement your diet regime.

Vitamin C (100mg), Low Molecule Hyaluronic Acid (250mg), Soybean Isoflavone (10mg), Royal Jelly Extract (15mg), Fish Collagen – Low molecule collagen peptide (1,500mg), Coenzyme Q10 (20mg), Low molecule polyphenol (10mg) in one box of 7-day use.

Benefits:
Give a smooth and youthful skin.
Antioxidant inverses the oxidant harm to the skin so as to prevent aging and wrinkles.
The vitamin C of the jelly is a vital cause for collagen synthesis.
Essential component of cellular metastasis, encourages skin regeneration.

Use:
Recommended for regular usages.
Apply with neat and clean hands.
The skin should be dried where it has to be applied.
Other Products in 'Health Care Products' category
Get in touch with us